Main content starts here, tab to start navigating
July Moon Bakery & Café is a new award-winning Asian bakery and café concept in Alpharetta, Georgia located at The Maxwell featuring bánh mì, bubble tea, coffee, and dessert.
We are committed to providing our community with consistent and high-quality Asian food and beverage specialties made in small batches with local, fresh, seasonal, and natural ingredients. Many gluten-friendly and non-dairy options are available.
About the Owner
Hanh Nguyen is a first-generation Vietnamese immigrant born in a Malaysian refugee camp—where her mother made Vietnamese iced coffee in order to survive and make a living. She worked her way through college earning a degree at the University of Washington in Seattle concentrating in Geographic Information Systems and International Development.
Hanh has 20+ years of IT industry experience at Fortune 50 and 100 companies with expertise in Customer Success and Business Transformation. She is a proud winner of and helped acheive the Technology Services Industry Association (TSIA) Star Award and certified TSIA Rated Outstanding Assisted, North America…two years in a row! Hanh is a relentless catalyst for proactive changes with outcome-based results to accelerate business growth and drive lean operational efficiencies. She is a champion for quality and continuous improvement when developing comprehensive business requirements and priorities—while maintaining a strong business acumen and an entrepreneurial spirit in a sales-driven, metric-intense environment. Hanh has demonstrated expertise in complex business process automation and mission-critical IT application implementation, training, and mergers and acquisition.
Over 11 years ago, while living in Seattle, Washington, Hanh had a dream of opening a small bakery and coffee shop. At that time, Hanh became a new mom, worked in corporate, and the market was completely saturated. So she placed her dream aside and focused on supporting the family and climbing the corporate ladder instead.
Fast forward to 2016 and living in Alpharetta, Georgia, there were no coffee and/or bakery shops with incorporated Asian, West Coast concepts. Her drive to Buford Hwy or Jimmy Carter Blvd would be over an hour. In addition, her eldest daughter helped reignite her distant dream and since then, they have been on a mother-daughter journey to launch a solution called July Moon Bakery & Café.
At the beginning of 2022 and in the middle of the pandemic, Hanh took a huge risk, transitioned out of corporate IT, and left a six-figure leadership role to turn a mother-daughter incubator project and dream into a reality!
July Moon Bakery & Café was birthed for several important reasons that would enable Hanh (and her daughters) to do the following:
– "Work" on something more fulfilling and give back to the community—while driving career development and mentorship,
– Pursue her passion for baking,
– Lay hands and pray for people,
– Drive awareness and fundraise for non-profit organizations supporting women and children,
– Promote a fun and safe community space—while promoting and elevating a unique coffee culture, and
– Most importantly, allow her to spend more time with her two precious daughters.
The July Moon Bakery & Café Signature Coffee features her mother's formula for Vietnamese iced coffee—taking their journeys from the Malaysian refugee camp full circle!
The "July Moon" Name
In 2017, Charlie and her mom, Hanh, were bonding at a gourmet donut shop. She kept looking back and forth at the young cashiers. Her mom said, "Charlie, when you grow up, you can work here too!" Charlie responded in her "Chucky" expression with her arms crossed on her chest, "I'm NOT going to work here, I'm going to OWN my own business!" She was six years old.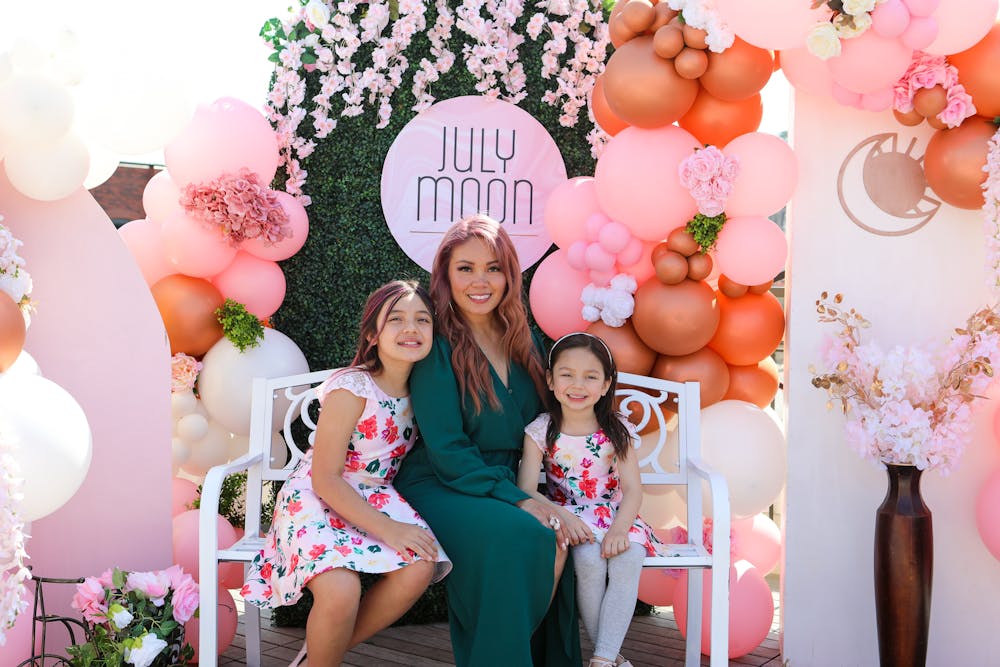 The "July" in July Moon represents Charlie's birthday month. And the "Moon" represents Colette's birthday month in October. When we think of October, we think of the Harvest Moon and the Autumn Festival celebrating the Full Moon.
We invite you to journey with us on this mother-daughter business adventure.